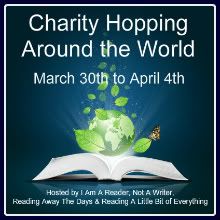 Welcome to my stop on the Charity Hopping Around the World!
There are many bloggers participating in this giveaway make sure you check them all out the other
giveaways
The charity that I chose is near and dear to my heart.
Did you know that many children do not have access to books in their home?
Did you know that not having access to print is related to reading difficulties for children?
What can you do?
Help spread the love of reading by supporting a charity that donates books to children of poverty.
You could change a life, and open the world of magic to a young mind.
Visit
In honor of my charity I will be giving away
Peter and the Shadow Thieves
Hardcover~ First Edition
a Rafflecopter giveaway